"Mom, stay right here til I get back.  Don't sneak over to your boyfriend's apartment or anything." said the daughter with a smile.  Her mom, though weak from an illness popped right back with "That's exactly what I'm gonna do, sneak to my boyfriend's apartment… Now, where is it again?"  
Laughter amid tears.  Is there any other state of emotion that more fully reflects life and humanity itself?  When we laugh while crying, we prove to ourselves once again that sorrow and joy can and do coexist.  Rather than mortal enemies, sorrow and joy go hand in hand, each dependent on the other and constantly intertwining to bring us life in its richest form.  In my years of experience in assisted living, it's the residents and families that laugh together who are able to cope most effectively with whatever comes their way.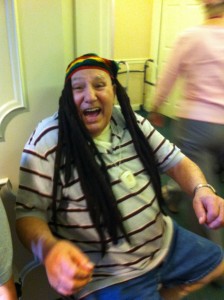 Here are a few ways to weave moments of happiness into life, even amid difficult times:
Develop an eye for the ridiculous.  One of my favorite sources of hilarity is the grocery store line.  There never fails to be a magazine cover touting ways to lose 50 pounds fast AND the most delicious brownie recipe you've ever tasted, all in the same issue.  I also love typographical errors on signs and menus and the like. Look around you for the weird and funny things life surrounds you with and laugh together with your loved ones about life's oddities.
Immortalize inside jokes.  My family is particularly adept at laughter amid tears.  In the middle of a heavy moment, and our family has had plenty of these over the past few years, one of us will reference an inside joke and all of a sudden we are all laughing together.  We might have caused a stir in a few hospitals and funeral homes over the past few years with our carrying on. When my dad had open heart surgery as he lay there in ICU, someone infamously said to him  "At least you haven't had c-sections like your wife had." So now anytime someone goes through a health problem in our family we laugh and say "At least it's not a c-section." Family inside jokes keep things close and humorous and they most often come out of ridiculous remarks or otherwise offensive situations.  Take those crazy stressful moments and turn them into reasons to laugh later.
Lead the way to laughter, even if you're the one in tears.  Many times, our loved ones aren't sure how to act around us when we are suffering or when we get bad news.  If you are suffering and you laugh first, you give others around you permission to be ok. One of our residents in the past was showing me one of those longwear lipsticks and she referred to it as her "Leitz Eagan Lipstick."  Since the lipstick doesn't come off easily, she joked that she'd still have it on when she lay in Leitz Eagan Funeral Home. With that joke, she gave me permission to laugh, she showed her own ineffable sparkle, and she gifted me with a wonderful memory of my time with her. 
Aging, illness, and the process of choosing long term care solutions can be a stressful process.  Humor can add a much needed breath of fresh air to your family as you move through the care of an aging parent.  Don't be afraid to laugh when you cry, and laugh until you cry. There's no need to wait until a crisis has passed to be able to smile with the ones you love.