Used to seeing him in a t-shirt and jeans, some residents almost didn't recognize one of their favorite persons as he walked the halls of St. Francis Villa today.  Our maintenance assistant, Juan, spends his days helping residents, bringing a smile as he replaces a light bulb, cleans an air filter, or fixes a sink.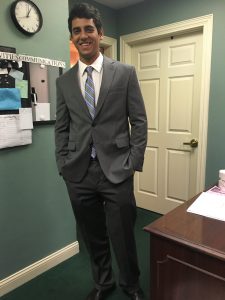 As he prepares to further his education, Juan had an important interview coming up and needed his first business suit.  Knowing the important investment that a business suit can be, resident Ms. Dorita offered to go with Juan to help him pick out his suit.  Dorita accompanied Juan to the store and coordinated the sales staff, giving advice and opinions on the different options available.  When she stopped by to tell me about their shopping trip, Dorita fondly recalled the days of shopping for her husband's business suits, how they'd shop together, stop for lunch and enjoy the day.  Now, Ms. Dorita may be small, but she's a force to be reckoned with and with her along on the shopping trip, Juan ended up buying this sharp combination that day.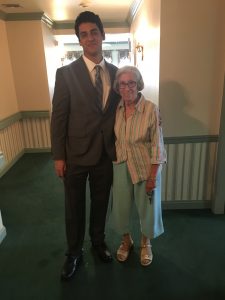 Today was the big interview day.  Afterwards, Juan stopped by St. Francis Villa to say hello and show off his new suit.  What a thrill to see the smiles and feel the pride of seeing someone we care about conquer a milestone!
As a director, I see article after article these days about how to employ millennials, how to keep them engaged, how to motivate a generation that knows nothing of life without the internet.   Today was an important reminder that different generations not only benefit and learn from each other, we NEED each other!  Today I saw a millennial that is growing because of the love, encouragement and knowledge he gets from members of the greatest generation, and I saw members of the greatest generation beam with pride and joy over a millennial that has truly become one of their friends.
At St. Francis Villa, we see over and over how relationships between the elderly and the young bring incredible joy to all involved.  Today I'm thankful to be in a place where employees, residents, young and old are willing to look past themselves and make the investment in others.  Every day, well wishes and calls of "Good morning, Sunshine!," or "You can do this, mom!," or "I love you, dawlin'!," fill our halls.  This day especially, seeing two good, though unlikely, friends celebrate an accomplishment together makes me even more grateful for the daily joy that is assisted living.  At St. Francis Villa, people from different generations, races, and walks of life come together to create a unique kind of family.   Life is a gift, and those of us who have enjoyed that gift the longest have much to share with those who have yet to discover the gift's true value.  What a privilege to have a front row seat to this kind of sharing!