In 1935, the famous (or infamous, to some) Huey P. Long Bridge opened, providing an additional option for crossing the Mississippi River between East and West Jefferson Parish.  St. Francis Villa Assisted Living resident Dena Russell was a newlywed.  "We walked across the bridge, ate lunch, and walked back!" she remembers.  The Huey P. Long Bridge is well-known as a white-knuckle trip, with its narrow lanes, high elevation, and strange curves.  The past couple of years have been full of anticipation and trepidation as drivers patiently (or not so patiently) awaited the completion of much-needed improvements to the bridge.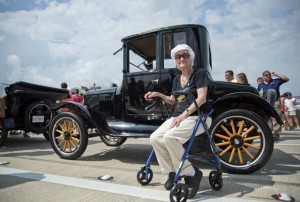 On Sunday, June 16, 2013, Dena once again found herself standing high atop the Huey P. Long Bridge.  She attended rededication ceremonies to commemorate the bridge's completion and was recognized along with others who crossed the bridge on its original opening day.  Another St. Francis Villa resident, Ms. Josie Ledet, crossed the Huey P. with her schoolmates as their senior trip. 
Dena saw quite a different view on Sunday than the one she saw back in 1935 from high up on the bridge.  Still, as our city continues to bustle and boom, its people continue to carry a certain sparkle, and Dena's certainly hasn't faded a bit!